T
he staff are a big part of what makes Hidden Bay the amazing place it is.
Many of our staff started out as campers, while many bring a great range of skills to our program. All staff at Hidden Bay hold current Standard First Aid and CPR Certificates and have been subject to a Vulnerable Sector Check. All waterfront staff hold Lifesaving Society NLS or Bronze Cross awards, as well as Red Cross Water Safety Instructor certifications. The camp director is a Trained Person in Operation of Small Drinking Water Systems.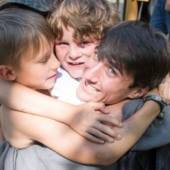 CEO - Shirley 'Braveheart' Black
As the CEO of York Professional Care & Education, Shirley oversees the full child care operations, with a special focus on our camps and outdoor education. Originally from Scotland, Shirley believes strongly in the importance and value of outdoor experiences for all children. Shirley is a Registered Early Childhood Educator from Seneca College and a NNEB from Motherwell College in Scotland.
Director of Camps - Christina 'Stitch' Bossart
From Parry Sound, Christina is the year-round Camp Director who makes sure that everything is running smoothly with the camp program, facilities, staff and camp families throughout the year.  Christina holds a Bachelor of Arts degree from Queen's University in Geography and a Master of Science from the University of Texas at Austin in Community Planning.  Christina grew up as a camper at Northwaters/Langskib, and then spent four years as a wilderness guide with Black Feather.  After spending a half-decade in outdoor and environmental organizations in Parry Sound and Muskoka doing education, outreach and fundraising, she returned to camps in 2015 to take the Camp Director position at Hidden Bay.
With a diverse background in administration, risk management, wilderness travel and education, Christina approaches camp with passion, energy and heart.  She cares deeply for the camp, the campers and its programs and is always looking for ways to continue to improve and strengthen the Hidden Bay community, to ensure that it is a welcoming and inclusive environment for all campers.
Christina is a graduate of the International Camp Directors Course and a member of the Standards Committee of the Ontario Camps Association.